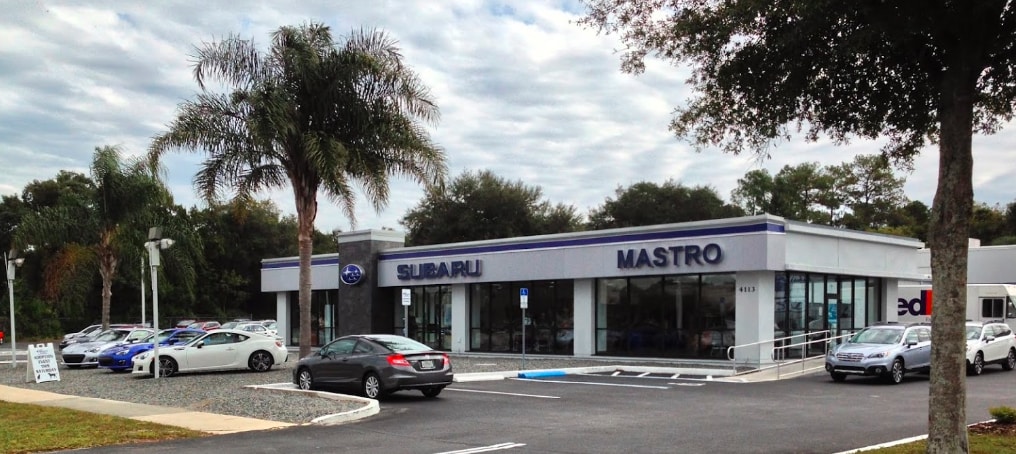 Who We Are
If the latest Subaru commercial has you wondering, "where is the closest Subaru dealer near me?" then look no further than Mastro Subaru of Orlando. Our dealership has been a proud member of the Orlando area for nearly 40 years. Since Peter Mastro Sr. emigrated from a small town in Italy many years ago and established what would grow into the business we have today, we've maintained our commitment to customer satisfaction. After all, our dealership motto is "Our reputation rides with you."
We understand that there are many dealerships that you can choose to do business with, but at Mastro Subaru of Orlando, we strive to exceed customers' expectations day-in and day-out. Our dealership has been recognized for our dedication to providing exceptional customer service. We've received the Subaru "Stellar Dealer" overall status, as well as "New Horizons" for service and parts. We're committed to providing you with a car buying or service experience that's unlike any other!
We're committed to serving each individual shopper as best we can. Whether you're in the market for a new or used vehicle or looking to take care of your vehicle's service needs, our friendly and knowledgeable staff will be more than happy to help!
Browse Our Inventory
Quality Subaru Service You Can Depend On 
At Mastro Subaru of Orlando, we're committed to cultivating relationships with our customers that last long after they drive off our lot behind the wheel of their new or used car. We believe in helping our customers maintain their vehicles, so that they can remain on the road for years to come.
Our state-of-the-art service facility includes a staff of highly-trained technicians who possess the knowledge and tools required to provide your Subaru with the TLC it deserves. Whether your vehicle is in need of routine maintenance, like an oil change or tire rotation, or extensive repairs, our expert service staff can handle the job. Our team of technicians work only with genuine Subaru replacement parts, so that your vehicle's integrity, as well as its resale value, are preserved; these parts were designed specifically for your Subaru model and fit like a missing puzzle piece.
Our dealership services all makes and models, so next time you're searching for "Subaru service near me," remember Mastro Subaru of Orlando. We're conveniently located in Sanford, and are open six days per week. Schedule an appointment with us by calling (888) 887-2516.
Browse Our Current Service Specials
What Sets Us Apart 
At Mastro Subaru of Orlando, we strive to go beyond the call of the average car dealership. We take great pride in providing Subaru vehicles and dependable service, but we also strive to serve our community in other ways. We partner with a variety of local charities and non-profits, including Seminole County Animal Services, Lake Mary High School Meals on Wheels, Homeless Children of Seminole County, and the Orlando Lacrosse League, to fulfill our Subaru Love Promise to do right by our community and help set the brand apart through our deeds and the deeds of our partners.
We gladly support Southeastern Guide Dogs and Paws for Patriots, and the Mastro family are proud sponsors of two dogs: Little Mastro and Legacy. Southeastern Guide Dogs and Paws for Patriots offer dogs that have been trained to help community members who are visually impaired, veterans suffering from PTSD, and other government services such as bomb detection, fire and arson, hospital therapy, and more.
Visit us today to experience what makes our dealership unique!