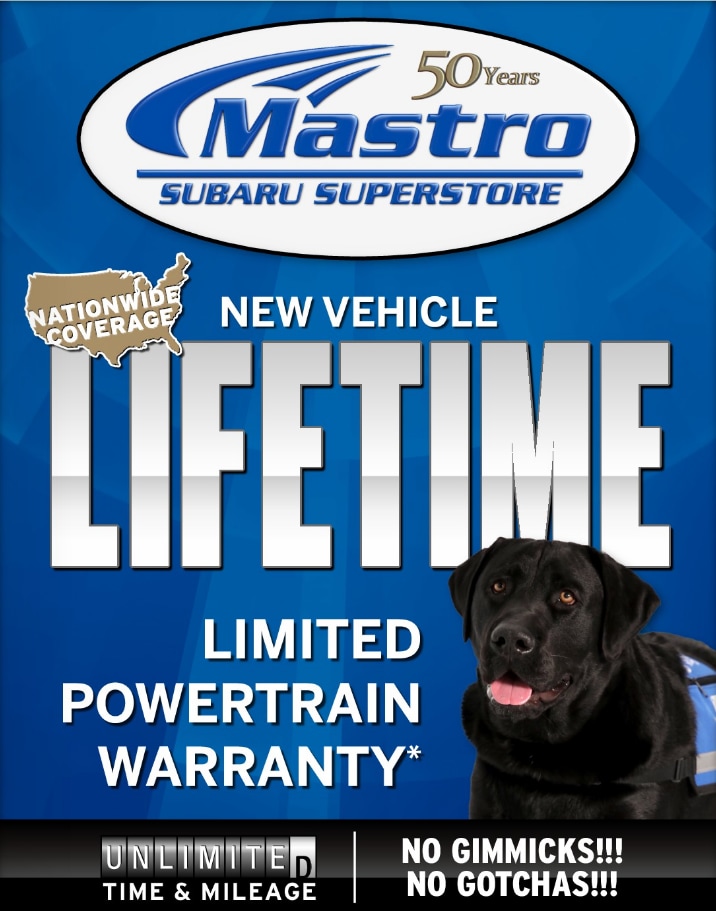 The Subaru Lifetime Warranty is in place to protect your purchase. Under this warranty, we are responsible for the engine, transmission/transfer case, drive axle, and seals & gaskets. To put a long story short: we've got you covered. Dealing with engine failure? We'll take care of it. Having some transmission issues? You have no need to fret. From weird noises to smoking engines, we're here to take care of your vehicle...for the entire time you own your Subaru!
Let's Get to the Details
The warranty begins the day you buy the car and ends when it's no longer yours (whether you sell it or simply drive it until its very end). Keep in mind that you must keep up with your Subaru's routine maintenance schedule. As long as you do your part, you can count on us to do ours. Following your maintenance schedule is the easiest way to keep your Subaru driving like-new for years to come.* excludes STi models
Peace of Mind For Orlando Area Subaru Drivers
We have one goal in mind: your complete and total satisfaction with your purchase. While you might be satisfied with our Orlando area dealer's huge selection of new Subaru models for sale, or our unparalleled expertise at our service center, we didn't stop there.
With every single Subaru purchase or lease, we offer our complimentary Lifetime Powertrain Warranty. This covers the engine, transmission and transfer case, the drive axle, and seals and gaskets. As long as you properly maintain your vehicle, we've got your back for the entire duration of your ownership of our Subaru.
Loyalty For Life
The Lifetime Powertrain Warranty is just a part of our Loyalty For Life package, which gives drivers around Orlando things like the Mastro Rewards program, 15% discounts on all parts and accessories, and lifetime loaner cars available for you to use.
Our customers love being part of the Mastro family, but don't take our word for it. Check out our customer reviews from Orlando area drivers who simply can't stay away from us when they need a new car or just need to bring their current Subaru in for some maintenance.
For full information, please watch the video above. Contact us today with any questions about our Lifetime Powertrain Warranty or any part of our Loyalty for Life program.
Hours
Monday

08:30am - 08:00pm

Tuesday

08:30am - 08:00pm

Wednesday

08:30am - 08:00pm

Thursday

08:30am - 08:00pm

Friday

08:30am - 08:00pm

Saturday

08:30am - 06:00pm

Sunday

Closed