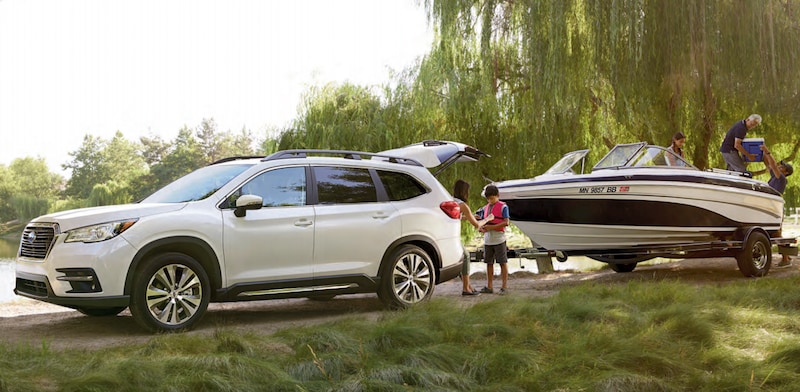 As we mentioned in our last blog, you don't need a truck to tow. Plenty of Subarus offer towing capability, as well, from the capable Forester's 1,500lbs max capacity to the larger Ascent Touring's available 5,000 lb capacity.
But before you link up that trailer and hit the Oviedo area roads, heed these safe towing tips.
Understand Towing Capacity
It's important to consider other weight that your car will also be pulling, and to maintain a safe distance under the maximum recommended capacity. That includes the weight of the driver, other passengers, and any other cargo in the car. Let's say a 160lb man, a 120 lb. woman, and a 40 pound dog are all headed out for a day at the lake in their Subaru Forester, with 30lb of fishing gear. It may have a 1,500lbs of towing capacity, but you have to subtract that 350lb of person, pup, and tackle from the number. That leaves you with 1150, and they should probably limit the weight of their trailer and boat to a combined 1,000 or 1,050lb to give themselves safe headway.
Have the right hitch
You can't tow without a hitch, and you should never tow without the right one. Make sure the towing hitch you are using is correct for your Subaru and approved for the weight you'll be towing. Fortunately, you can get genuine Subaru parts and accessories like towing assemblies directly from our parts department at Mastro Subaru of Orlando.
Tow smart
When loading up your trailer, you'll want to make sure you aren't hindering rear visibility from the vehicle if at all possible. Keeping items low and secure not only helps you see them, but also is preventative against devastating flips and turns when cornering. Also, try to pack more than half of your trailer cargo to the front (closer to your Subaru) to help with weight distribution.
Tow legal
In Florida, any trailer over 3,000 pounds will need its own braking system, so make sure your equipment is compliant. If it is, make sure to test your connections so you know that all of the brakes, both on the car and trailer, are working, and that all of the necessary lights and signals are in good working order as well. Towing laws may vary as you cross state lines, so if you're planning a long road trip, look those up beforehand so you can prepare.
Be safe!
If you're new to towing, make sure to test out your rig in a safe area, like a large unoccupied parking lot, to familiarize yourself with how the trailer and vehicle will behave. When you're ready to get on your way, be sure to drive slowly, with heightened awareness, and to give yourself ample space for turning and merging. You may also want to stop periodically throughout your trip to make sure everything is staying secure and properly attached.

So, Oviedo drivers, are you ready to start on your own towing adventures? If so, give us a visit at Mastro Subaru of Orlando. We can show you all of the Subaru vehicles that offer towing capabilities, answer any questions you may have, and outfit you with all the necessary equipment and accessories.